Statement Necklaces have been my biggest obsession lately! They're the only accessory that really come to my mind when I shop right now. I think the reason why they're so important is because you can wear it casual and you can wear it with a dress and it will make the outfit. Any fashionista should pick one up there are plenty of boutiques, department stores and retail stores that carry them. Express had a good promotion going on and I got 4 necklaces for less than $100! It was a steal. Personally I love their jewelry they're good quality for a good price.
Here's a few I picked up from express on a recent trip!
Nested Beaded Wire Bib Necklace $39.99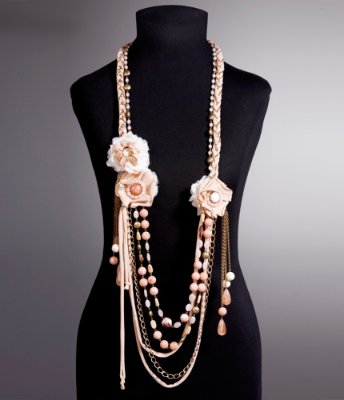 Long Layered Flower Chain Necklace $69.50
Wow I Can't Find The Other Ones on the Site! That's Sad! But I Have Few That I Would Recommend.
LUX CRYSTAL AND RHINESTONE FRINGE NECKLACE $148.00
This is a little pricey for my range but this would be one of those pieces that are splurgeworthy!
For a more affordable version I would recommend...
Layered Fringe Necklace $44.90
WARNING TO BUSTY WOMEN!
DO NOT!
wear
statement necklaces if you do not want your decolletage emphasized! Sometimes it's not always good to emphasize parts that already get enough attention as is. I recommend women with big busts to wear shorter minimal necklaces and if you're going to wear statement necklaces make sure it's with a t-shirt or a dress not revealing cleavage.
Everything here is from Express.com and is on the site as of today so shop your heart out! Also remember to take advantage of their Buy one, get one 50% off deal!